Ordering Bizer's ninth edition charts
A list of vendors in the Lakes Region is below
First, you've got to decide what you want. The list below contains all of our products.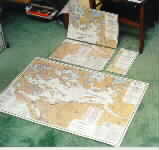 Bizer's most common product is its waterproof, folded chart of Lake Winnipesaukee. It's 22"x34" folded up to 6"x11". It costs $ 11.95 plus $3.50 for shipping (total: $15.45)
Bizer's folded, laminated (5-mil) chart of Lake Winnipesaukee. It's two sections 11"x17". The two sections are hinged together with tape. $21.95 plus $6.50 for priority mail shipping. (total: $28.45).
Bizer's unfolded laminated chart of Lake Winnipesaukee (22"x34") for mounting on a wall, unframed. $21.95 + $8.50 Priority Mail shipping (includes $3.00 for mailing tube).
Bizer's unfolded paper chart of Winnipesaukee (22"x34"), suitable for framing. $11.95 + $6.50 shipping ($3.50 + $3.00 for mailing tube).
Bizer's waterproof, folded chart of Lake Winnisquam: $7.95 plus $3.50 for shipping (total: $10.45)
Version G4 of Bizer's database in Garmin format for you to download: $110.00. Please see details at http://bizer.com/garmin
Bizer's chart in PDF format emailed to you for your own personal use. $28.75 (Front of chart only) -or- $31.75 (front and back of chart)
Large format charts (see photos below with cute grandaughter). Same as 22"x34" personalized map, but much LARGER. Bizer's PDF file may be taken to Kindos or Staples or other vendors and have one copy of Bizer's chart blown up to any size desired. Your PDF file may be personalized with "You Are Here>" or a photograph of your house for a nominal additional fee
If you order more than one chart of the same type, there is only one shipping/handling charge per order. Most items can be shipped in one package. If you order several different items, call us for a shipping quote. Please send your check to Bizer Corporation; 20 Sherburn Circle; Weston, MA 02493-1010. For items shipped to Massachusetts, please be sure to include sales tax.

We also are able to take our Postscript file to Kinkos for a map that's as large as they can print for wall mounting. Call us for details. If you have any questions, call us @ 617 413 3940.
---
ONLINE CREDIT CARD ORDERS
Bizer's folded map may be purchase from www.winnipesaukee.com/bizermap.html with a credit card.
If you're going to be in the lakes region, a list of Bizer's vendors is at the bottom of this page. Most vendors sell Bizer's folded chart as well as our 5-mil hinged laminated map
---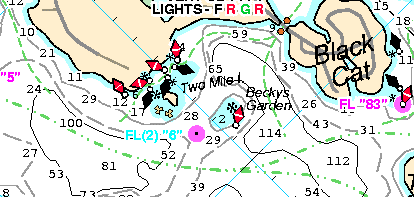 If you have never seen a BIZER chart, here is a scanned portion (2" x 5") of Bizer's Winnipesaukee chart. Note that Bizer shows the shallow areas with blue tint and the precise location of all buoys.

---
Vendors of Bizer's Map
This is a partial list of Bizer retailers.
Listed clockwise around Lake Winnipesaukee, from Tuftonboro
--- Tuftonboro (Melvin Village) ---
Melvin Village Marina, Route 109
--- Wolfeboro ---
Libby Museum, Route 109 on the Tuftonboro/Wolfeboro line
Goodhue & Hawkins Navy Yard; Sewell Road
Dive Winnipesaukee, 4 North Main Street
Hole-in-the-Wall - 45 North Main Street.
The Art Place - 9 North Main Street (Framed paper maps only)
Black's Paper Store and Gift Shop, 8 South Main Street
--- Alton ---
Wayside Grocery at the traffic circle, one mile south of town.
Parker Marine Route 11, Alton Bay (at the bridge)
Irwin Marine of ALton Bay (Formerly Gillan Marine), Route 11, Alton Bay (at the bridge)
Olde Bay Diner, Route 11 <----- Great place for breakfast or lunch
West Alton Marina; Route 11
--- Gilford ---
Ames Farm Inn 2800 Lake Shore Road <-----boat on in and have breakfast
Fay's Boat Yard; 71 Varney Point Road (Smith Cove)
Fay's Marine Store; 3 Varney Point Road (On Route 11)
Dave's Motorboat Shoppe Route 11B, 229 Intervale Road
Sports & Marine Parafunalia; 44 Weirs Road
--- Laconia and Weirs ---
Anchor Marine, 1258 Union Avenue
Watermark Marine, 1218 Union Avenue
Irwin Marine; 958 Union Ave., Lakeport
Lakeport Landing Marina Corner of Elm & Union
Paugus Bay Marina 41 Sheridan Road
Winni Marine (formerly Channel Marine). Channel Drive, Weirs Beach.
Thurston's Marine, Route 3, Weirs Beach (At the bridge to Paugus Bay)
Lake Winnipesauke Museum, Route 3
--- Lake Winnisquam area ---
Winnisquam Marine, On the east side of the Winnisquam bridge, Route 3
--- Meredith ---
Meredith Marina 2 Bay Shore Drive
AJ's Bait & Tackle 8 Maple Street
Meredith Station (The convenience store across the street from the town docks)
Innisfree Book Store, Mills Falls Marketplace
Y Landing Marina; 108 Powers Road
Shep Brown's Boat Basin, 31 Lovejoy Sands Road, Meredith
--- Center Harbor ---
Heath's Hardware Store, Route 25, Center Harbor
Bayswater Bookstore
--- Moultonboro ---
Jojo's Country Store; Moultonboro Neck Road
Trexler's Marina, Moultonborough Neck Rd. (At Long Is. Bridge)
Off The Water Marine & Dock, Harrilla's Landing at the end of Long Island Road
The Old COuntry Store, Moultonboro Center
Skelly's Market, Route 109
Ambrose Cove Marina in Ambrose Cove
--- --- Other In State --- ---
Order online with your credit card at www.winnipesaukee.com/bizermap.html (folded map only)